On our website we offer these advertising spaces. Choose the most suitable to your needs: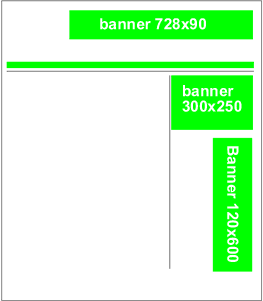 Dimension advertising space
Available space adhere to the guidelines IAB:
728 x 90
300 x 250
160 x 600
company_string
In addition to the 3 standard spaces, we offer the opportunity to communicate, to all users who visit the site and the companies entered, a promotional message with the format company_string. The format will be developed to comunicate an offer in all site web.
Available spaces
Our system allows to buy of banners to a specific page on our website, on a particular section (county/district/town, category / s), or the whole site.
If are present more banners will be displayed cyclically in random fashion according to a probability factor that you can customize during payment: the higher the probability your banner will be displayed.
Once you have completed your payment you will be provided data access to your admin panel to view the details of the views obtained by Banner and divided by address / section.
Formats allowed
SWF
GIF
JPG
PNG
Javascript
If you are interested in one of our promotional packages or have special requests for spaces please fill out the form below.
Our staff will analyze your request and contact you directly to provide all type of assistance needed to place your banner on our web site